Ferhat Albayrak – Stroker EP – JET034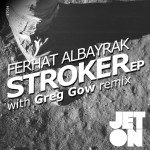 The thirty fourth release of Jeton Records, originally based in Istanbul and with a branch in Berlin, owned and managed by Turkish Techno Player Ferhat Albayrak, presents Stroker EP with Greg Gow Remix.
We are honored to welcome back Greg Gow, after his massive success of Search EP, with Resident Advisor Review and a Beatport Featured, this time Canadian delivers a powerful remix to Ferhat's original.
The Name Track of the EP, Stroker is a very powerful peak-time weapon, it strokes bass-line right after the high-kick, a combination that Ferhat is using in his recent tracks, with a saturated chorus surrounding and of course cutting edge cymbals and white-noises.
Greg Gow Remix of Stroker, called Old Skool Mix, is not transfering the track fundamentals radically but adds a massive Detroit Pad, which remind us The Legend Dave Clarke Red Series. Perfect build-up for the rise, clever usage of filters and perc'ed groove completes the musical journal from the past to the future…
Last Track, Cyclone Baker, reflects dark side of Ferhat, features again a bottom heavy character, with a dark environmental atmosphere pad all over the track and horror-movies fxs. Will make you scare !
Ferhat Albayrak – Stroker EP is aiming to be your favorite EP just before the summer, for the needs of peak-time ammos, with Canadian Detroit Style and Istanbul Style. Enjoy !
FEEDBACKS
| | | |
| --- | --- | --- |
| Danny Tenaglia | – | thanks!!! |
| Richie Hawtin | – | download for r hawtin |
| Roger Sanchez | – | nice release |
| Tom Hades | – | Really strong package ! Nice one ! 🙂 |
| Tomy De Clerque | – | will play stroker … |
| Stanny Franssen | – | Nice ep! |
| Audio Injection | – | digging greg gow remix, will try this out thanks |
| Davy Dee | – | I like Stroker" both mixes very much. Thanks !" |
| Gennaro Le Fosse | – | Nice ! |
| Steve Mulder | – | AWESOME release!! Full support on both mixes of Stroker"!!" |
| Monocraft | – | Downloaded, thanks! |
| Gabriel Ben | – | solid EP. Big tracks. |
| Ricardo Garduno | – | Great release! originals works for me! thanks! |
| Roel Salemink | – | Very cool EP. Stroker is my pick! |
| Phil Soren | – | Nice techno sound – Thanks |
| Andy Slate | – | now we are talking mr grow! fantastic bombastic! |
| Peja | – | In love with Greg Gow Old Skool Mix,thanks |
| Roman Finansi | – | Cyclone Baker" – Nice deep stuff!!! Fav!" |
| Todd Burns – Editor in Chief RA | – | Thanks. |