Squicciarini, Nick Vono – ECG Frequency EP – JET029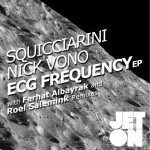 The twenty ninth release of Jeton Records, originally based in Istanbul and with a branch in Berlin, owned and managed by Turkish Techno Player Ferhat Albayrak, welcomes Squicciarini, Nick Vono – ECG Frequency EP with Ferhat Albayrak & Roel Salemink Remixes.
We love Italy ! We love the food, the landscape, the history, the cars and the people ! And recently we love its Techno Artists too. After our Italian Heavy Weapon Peja, we are really happy to have Italian Squicciarini, Nick Vono on their debut release of Jeton Records.
Squicciarini, Nick Vono have many successful releases on labels like Monique Speciale, Pressure and Heavy, they now have a very promising EP, ECG Frequency with different sub-genre remixes.
The Original Mix, reminds us old days of House scene, a bold groovy bass-line, beautiful 909 percussions and basic fxs. But in order to transform it to a new school Techno track, it has been added a atmosphere fx and tight super compressed kicks.
Ferhat Albayrak Remix, brings to the track a little darkness. More button heavy and more saturated percs, filters and fxs transforms the original to a heavy bullet.
Roel Salemink Remix features again more minimal elements than maximums, heavy usage of toms, white noises and filters, brings to the original a minimal feeling.
Squicciarini, Nick Vono – ECG Frequency EP has different tracks and sub-genres for different usages, but we know for sure will satisfy your bass needs in every condition. Enjoy !
FEEDBACKS
| | | |
| --- | --- | --- |
| Paul Van Dyk | – | Thanks downloading for PvD |
| Richie Hawtin | – | DOWNLOAD FOR R HAWTIN |
| Roger Sanchez | – | will try out thanks |
| Trevor Rockcliffe | – | Feeling this ep! |
| Tom Hades | – | Original is my pick this time !! 🙂 |
| Davy Dee | – | Deep & Dark Techno ! I will play the Ferhat Albayrak Remix for sure !!! |
| Paco Osuna | – | downloaded thank you 🙂 |
| Gabriel Ben | – | cool pack! will play for sure |
| Julius Geluk | – | This is dark yet groovin' floorkilling techno! Both Salemink 's and Albayrak's mix for me |
| Microvibez | – | Ferhat's & Roel's remix for me…Very cool! |
| Roel Salemink | – | Nice to be on Jeton again! |
| Todd Burns – Editor in Chief RA | – | Thanks! Downloading. |