Jeton Records Radio Show 108 Luca Agnelli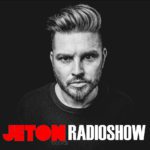 108th episode of Jeton Records Radioshow welcomes Luca Agnelli from Italy. One of the most respected new generation Techno Artists of the scene, Luca Agnelli made his reputation by releasing amazing music in great labels like Drumcode, Soma, Planet Rhythm, Be as One, Safari, TipTop, Kaputt, Paranoid Dancer, Labrynth, Truesoul, Suara, Desolat, Get Digital, Four Twenty, MBF, beyond of course for his Etruria beats. In November 2016 Luca has remixed a masterpiece "Porcelain" by the legend MOBY released on Drumcode.
He has played in many important clubs and festivals around the world like Dockyard (Amsterdam) Movement (Torino) Ressonancia (Sao Paulo) (Amnesia (Ibiza) Spazio 900 (Roma), Fabrik (Madrid), Cocoricò (Riccione) and many more. We are very pleased to host him in our show this month's Jeton Records Radioshow.
Second part features Ferhat Albayrak`s live mix taken from his set at Jeton Records Showcase Online from last month. Enjoy!