UGR – Invisible Mirror EP – JET134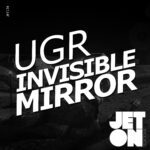 The 134th release of Jeton Records, originally based in Istanbul, owned and managed by Turkish Techno Player Ferhat Albayrak, welcomes UGR Solo Debut with Invisible Mirror EP.
UGR plays an important role in Turkish Underground Dance Scene for years both as an Artist and a resident DJ / Music Director in amazing Kite Club in Ankara, a symbol of club culture for years.
UGR has involved in production more a decade and improved his skills since then, made his debut on Jeton early this year with his single Broke UP together with Anil Bütün, featured in New Breed IV Compilation, received a great feedback around the globe.
His Solo Debut EP features 3 track completely out of the crowd. The sound, the story and the motivation is completely different from what you will find in current Techno Shops, rather than in 'your face sound', it is focused more on sound design, frequency optimization and automation, heavily inspired by early 90's Techno Beats.
UGR – Invisible Mirror EP could be your timeless hidden weapons, on your streams and live sets. Enjoy!
Available From Stores
Worldwide – 16th Aug 2020
FEEDBACKS
Ascon – very strong
Audiojack (Jamie) – These sound like nice floor tools
Carmello Ponente – Back to The Oldschool for me, very good !
COMMA Group – thanks for sharing!
Danny Tenaglia – Downloading for Danny Tenaglia, thanks!
Greg Gow – Back to the old school for me
Ilario Alicante – Thanks for the music!
Joseph Capriati – Thanks !
Lasawers – Thanks !
Levent Lodos – Nice Track !
Mehmet Ozbek – Nice EP!
Murat Ugurlu – Nice release !
Paco Osuna – Will try thanks
Richie Hawtin – downloaded for r hawtin
Stiv Hey – Thanks for the music!
Tomy De Clerque – Best promo thish month