Mehmet Ozbek – Instant Insanity EP JET130 is out!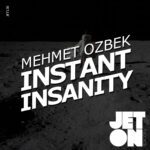 The 130th release of Jeton Records, originally based in Istanbul, owned and managed by Turkish Techno Player Ferhat Albayrak, welcome Mehmet Ozbek's Debut EP, 'Instant Insanity'.
Mehmet Ozbek is one the new breeds of Turkish Electronic Music scene and made his debut on Jeton last December with his single 'System Failure' on New Breed Vol.III Compilation.
After great feedbacks, now it is time for Mehmet to secure his first solo EP on Jeton Records.
EP consists of three tracks, all reflects the new generation of Techno with a dynamic approach.
All tracks has been roadtested and ready for your home streamings 🙂
A warm welcome for Mehmet Ozbek for his debut solo EP. Enjoy!
#StayHome #StaySafe
Available From Stores
Worldwide – 22nd Jun 2020


FEEDBACKS
Bageera – Quality shizzle, Thanks
Carmello Ponente – Jeton always delivers quality. Thank you
COMMA Group – thanks for sharing!
Cristian Varela – Good! Downloading for Cristian Varela..thank you very much!
Danny Tenaglia – Downloading for Danny Tenaglia, thanks!
Darren Rice – Love the vocal on this
Eddie Halliwell – Downloading for Eddie to check out, thanks
Eme Kulhnek – nice ! thx
Fanny Lifad – thanks
Giorgio Rusconi – Nice EP
Ilario Alicante – Downloading for Ilario Alicante, thanks for the music!
Kaizer The Dj – Solid EP good tracks.Thnx
Lasawers – yessss great sounds thanks
Levent Lodos – Support!
Marco Carola (Minus / Plus 8) – downloading for Marco Carola, thanks
Murat Ugurlu – Great release !
Paco Osuna – Will try thanks
Richie Hawtin – downloaded for r hawtin
Sezer Uysal – great production. Mehmet is on fire.
Stiv Hey – thanks for the music!