Mitch de Klein – Anna Lied EP [Jeton] JET127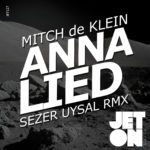 The 127th release of Jeton Records, originally based in Istanbul, owned and managed by Turkish Techno Player Ferhat Albayrak, welcomes Mitch de Klein debut release, Anna Lied EP.
Mitch de Klein is based in Amsterdam and having releasing great music on respected labels like Elevate, Filth on Acid, Manual Music and many more. His style is very focused and detailed, harmonies and melodies blending together. He brings 2 tracks which are reflecting the new generation Techno Sound of today.
Sezer Uysal, one of the Jeton Regulars both on events and releases, put his signature sound to the Locomotive Remix and takes the track to an another dimension.
Mitch de Klein – Anna Lied EP with Sezer Uysal Remix will fit your tension needed moments! Enjoy!
Available From Stores
Worldwide – 16th Mar 2020