Riza Gobelez – Time Shift Album [Jeton] JET118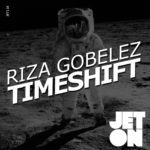 The one hundred and eighteen release of Jeton Records, originally based in Istanbul, owned and managed by Turkish Techno Player Ferhat Albayrak, welcomes Riza Gobelez debut Album; Time Shift.
2019 is Jeton's 10th Year Anniversary and we are celebrating during year with many occasions like a 10 Year Event with Christian Smith and a massive birthday event with Mighty Carl Cox in Istanbul.
Releasing a debut album of one of the regulars of Jeton, a young rising talent, Riza Gobelez's Time Shift, is an another great occasion to celebrate our anniversary. Riza's artistic career is in boost mode, by releasing collabs with Ferhat Albayrak on amazing labels like Elevate, Transmit and upcoming Intec. He is in the right path at the right time.
Time Shift although is a 10 track work of art, showcasing the talent of Riza, in dance-floor and in bed-room sound systems environments.
It is an album of story-telling, an express of feelings; bad times, ecstasies, ups and downs, but in the borders of the beauty of Techno.
We hope you will use the album for a long time, when you need a banger at peak-time or a tranquilizer after work. Enjoy!
FEEDBACKS
Basic Frame – We re going to test Red&Green and Affliction. Thx
Burakcan Yilmaz – Very Nice Sounds
Chris Count – all tracks !!!
COMMA Group – thanks for sharing!
Darren Rice – First 2 tracks are absolut savages
Eme Kulhnek – nice release ! thanks !
Gemma Furbank – Some great tracks in here
Ilario Alicante – Downloading for Ilario Alicante, thanks for the music!
Lasawers – serious stuff !! thanks
LAW – Will test, thanks!
Luigi Madonna – Downloaded…thanks for the music!
LWJR aka Kerem Yucel – amazing tracks!
Marco Carola (Minus / Plus 8) – downloading for Marco Carola, thanks
Mertens – Santo's hook is gripping!
Phil Soren – Thx for the music !
Richie Hawtin – downloaded for r hawtin
Spartaque – Cool tracks!
Stiv Hey – HEY is downloading, thanks for the music 🙂
Ugur Project – Full Support!