Carl Cox Istanbul'da, Avantajlı Biletler Satışta!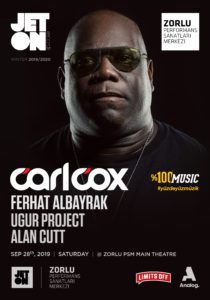 The wait is over! The Greatest Carl Cox returns to Istanbul with Jeton Records, on 28 Sept 2019 at Zorlu Performans Sanatları Merkezi.
%100 Music presents Carl Cox
Tüm zamanların en iyi DJ'lerinden ve DJ'liğin sembol figürlerinden Carl Cox, 10 yıl aradan sonra ilk kez Türkiye'de!
%100 Music katkıları, Jeton Records ve Zorlu PSM organizasyonu ile 28 Eylül 2019 Cumartesi günü Carl Cox Istanbul'da Zorlu PSM'de sahne alıyor.
DJ Mag – Beatport Top 100 DJs 2018 sıralamasında bir numara seçilen, Mixmag dergisine göre son 25 yılın en iyi DJ'i olan Carl Cox, kendisi ile özdeşleşen sound'unu ve muhteşem sahne enerjisini çok uzun bir aradan sonra Istanbul'a getiriyor.
Carl Cox 1999'da kurduğu plak şirketi Intec Digital'in yanı sıra, 10. yılını kutladığı "Carl Cox & Friends" adı altında Ultra Music Festival, Tomorrowland ve Awakenings gibi festivallerdeki sahneleri, 15 yıl resident DJ'i olduğu ve ismi ile özdeşleşen Space Ibiza, son olarak Avustralya'da kendi festivali PURE ile durak vermeden Dünya Elektronik Müzik Sahnesi'nin zirvesinde kalmaya devam ediyor.
Carl Cox'a, onunla daha önce 2 kez Space Ibiza'da 1 kez de son Istanbul performansında beraber çalan ve plak şirketi Intec Digital'den 4 EP yayınlayan Jeton Records kurucusu Ferhat Albayrak, Jeton'un en önemli isimlerinden Ugur Project ve gene Jeton'un son yeteneklerinden Alan Cutt eşlik edecek.
Daha önce Jeton eventlerine bilet alanların özel bir indirimle ve sınırlı sayıda "Jeton Family" kategorisinden bilet alabileceği bu muhteşem gecenin avantajlı biletleri Bugece.co'da.