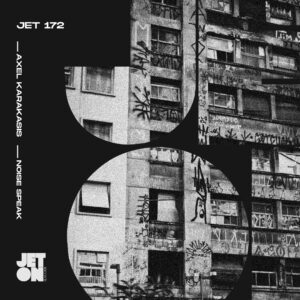 Since 2009, Jeton became the synonym for quality Techno Print, out from Istanbul, where east meets west, one of the fast rising scenes of the globe, always pushing the boundaries, guided by Label Head Ferhat Albayrak.
172th Release of Jeton welcomes back Axel Karakasis with Noise Speak EP.
One of the most respected producers in the Techno scene, our great friend Axel Karakasis delivers his forth EP on Jeton Records after an absence of 5 years. But It is worth to wait.
Four trakker EP is all about rolling drums, pumping beats, razor-sharp drums and great traffic. As we expect from veteran Axel Karakasis.
'Noise Speak' EP would be your dark and uplifitng archive favorites.
Enjoy!
Available From Stores
Beatport – 26th Aug 2022
Worldwide – 09th Sep 2022
FEEDBACKS
Arnaud Le Texier – Cool ep. Thx
Audiojack (Jamie) – Solid floor tools
Cristian Varela – Excellent!
Danny Tenaglia – Downloading for Danny Tenaglia, thanks!
Drumcomplex – only bangers here
Dysinfect – love it!
Electric Rescue – faded game kills
Eme Kulhnek – really cool tracks ! thank you !
Greg Gow – nice ep subway for me
Horatio – banger
Ilario Alicante – Downloading for Ilario Alicante, thanks for the music!
Joseph Capriati – downloading for joseph capriati, thanks !
Paco Osuna – Will try thanks
Richie Hawtin – downloaded for r hawtin
Sam Paganini – Nice! Downloading thanks
Sama Abdulhadi – brilliant i cant even choose a fav.
Slam – Thanx
Vinicius Honorio – Dancefloor hurters!