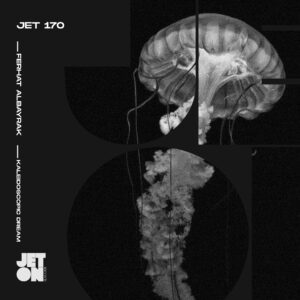 Since 2009, Jeton became the synonym for quality Techno Print, out from Istanbul, where east meets west, one of the fast rising scenes of the globe, always pushing the boundaries, guided by Label Head Ferhat Albayrak.
170th Release of Jeton welcomes label head Ferhat Albayrak with Kaleidoscopic Dream EP.
Label Head Ferhat Albayrak sound is getting evolving and maturing every single year, 2022 is again a lot of great trials, experiments and pushing the boundaries by getting out of comfort zone.
Kaleidoscopic Dream EP consists of 4 trakker, all very different but at the same time very combining tracks. Kaleidoscopic Dream is a fast, raw, floor-filler, Robotic Percs is melodic approach of playing with percs, Planet Nine is a emotion heavy pad work and lastly Hellraiser is a bouncy dark synth work.
Ferhat Albayrak – Kaleidoscopic Dream EP could fit all hours of your summer sets.
Enjoy!
Available From Stores
Beatport – 29th Jul 2022
Worldwide – 12th Aug 2022
FEEDBACKS
Anthony Pappa – Kaleidoscopic Dreams and Robotic Percs are both excellent. Thank you.
Atesh K. – Kaleidoscopic Dream is the 1 for me here. I will play for sure..
Cristian Varela – Good! Downloading for Cristian Varela..thank you very much!
Dave The Drummer – Cheers!
Dimitri Kechagias – great techno thanks
Drumcomplex – 4 times yes for me great ep all in all
Dysinfect – Love Kaleidosciouc Dream and Robotic Percs! Great release Ferhat! Will Play.
Ilario Alicante – Downloading for Ilario Alicante, thanks for the music!
Joseph Capriati – downloading for joseph capriati, thanks !
Marcel Reix – Kaleidoscopic Dream for me, thanks.
Marco Carola – Downloading for Marco Carola,thanks.
Markantonio – Downloading for Markantonio, thanks for the music !
Mertens – planet nine, like a vintage wine!
Paco Osuna – Will thy thanks
Pascal FEOS – THX for the music
Richie Hawtin – downloaded for r hawtin
Sam Paganini – Nice! Downloading thanks
Sama Abdulhadi – nice work my friend
Trevor Rockliffe – feeling this ep
Vinicius Honorio – Straight-up dancefloor hurters!