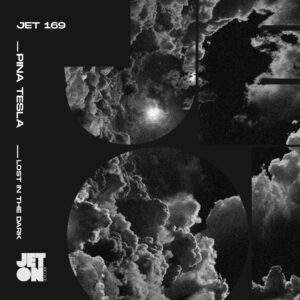 Since 2009, Jeton became the synonym for quality Techno Print, out from Istanbul, where east meets west, one of the fast rising scenes of the globe, always pushing the boundaries, guided by Label Head Ferhat Albayrak.
169th Release of Jeton welcomes back Pina Tesla with 'Lost in The Dark' EP.
One of the rising names in Jeton and in the territory, Pina Tesla has been consistency improving her skills in every release. Her Jeton catalogue consists of 2 EPs and 1 single in the last 2 years, she has shared the same stage with SAMA Abdulhadi and Thomas Hoffknechtf on Jeton Events and her catalogue is getting wider by releasing in respected labels like FE Chrome and Frequenza. You will hear more frequently in the upcoming period for sure.
Lost in The Dark EP is a two trackker, signature sound of Pina Tesla, raw, uplifting, not so complicated and strictly made for the dance-floor.
Enjoy!
Available From Stores
Beatport – 15th Jul 2022
Worldwide – 30th Jul 2022
FEEDBACKS
Anthony Pappa – Lost In The Dark is cool. Thank you.
Dave The Drummer – Thanks for the music!!
Eddie Halliwell – Downloading for Eddie to check out, thanks
Eme Kulhnek – nice tracks ! Thank you
Gary Martin – I don't know why I like it but I do!
Ilario Alicante – Downloading for Ilario Alicante, thanks for the music!
Joseph Capriati – Downloading for joseph capriati, thanks !
Marcel Reix – Lost in the dark for me, thanks
Marco Carola – Downloading for Marco Carola, thanks
Paco Osuna – Will try thanks
Richie Hawtin – Downloaded for r hawtin
Sam Paganini – Nice! Downloading thanks
Sama Abdulhadi – brilliant work my friend
Slam – Thanx
Thomas Hoffknecht – GO PINA!