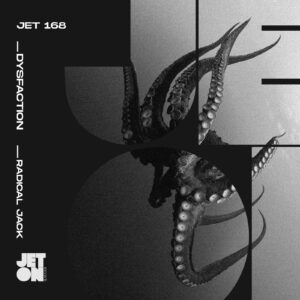 Since 2009, Jeton became the synonym for quality Techno Print, out from Istanbul, where east meets west, one of the fast rising scenes of the globe, always pushing the boundaries, guided by Label Head Ferhat Albayrak.
168th Release of Jeton welcomes back Dysfaction with Radical Jack EP.
German duo, Christian Brattig and Jan-Marco Ritter aka Dysfaction is back with another great EP after an one year absence. They are continuing to release on quality imprints like Second State and BLK DRP, their sound is more mature then before: High quality, mind melting, next generation Techno flanked with strong synthesizer lines and a guarantee to turn peoples head.
Dysfaction Radical Jack EP is asking your favorite spot of your archive for peak-time usage weapons.
Enjoy!
Available From Stores
Beatport – 24th Jun 2022
Worldwide – 8th Jul 2022