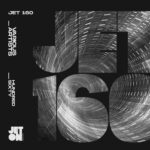 An important stone; The Hundred Sixty release of Jeton Records, originally based in Istanbul, owned and managed by Turkish Techno Player Ferhat Albayrak, proudly presents VA Hundred Sixty ; A Music Collection of last 60 Releases.
Established in July 2009, Jeton Records has managed to release its 160th release in 13 years, and has managed to get into DJ Bags of The worlds Finest Artists; a moment of proud for us. Hundred Sixty is a compilation of the last 60 Releases of Jeton Records, published in more than 4 years, limited to 10 tracks. We would like to thank all the producers for their massive contributions and to our followers who make us one of the Important Techno Labels in the industry, for the last 13 years! A Giant Thank You to All !
Available From Stores
Beatport – 04th Feb 2022
Worldwide – 18th Feb 2022
FEEDBACKS
Anthony Pappa – Some nice tracks here. Thankyou
Atesh K. – Massive remix by Mark Broom. Other tracks are nice too. I will play for sure..
Danny Tenaglia – Downloading for Danny Tenaglia, thanks!
Dave The Drummer – Cheers!!!
Eddie Halliwell – Will check out, thanks
Ilario Alicante – Thanks for the music!
Joseph Capriati – Thanks !
Laurent Garnier – very cool remix by Mark
Marco Carola – Thanks.
Markantonio – Thanks for the music !
Paco Osuna – Will try thanks
Richie Hawtin – downloaded for r hawtin
Sam Paganini – Nice! thanks
Sama Abdulhadi – niiiice
The Advent (Kombination Research) – The Southern – Pazienza (Original Mix)
Yigitoglu – Amazing collection, thank you Boss!