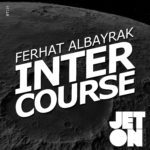 The one hundred and nineteenth release of Jeton Records, originally based in Istanbul, owned and managed by Turkish Techno Player Ferhat Albayrak, presents Intercourse EP.
After securing succesful releases from Tronic, Elevate and Transmit, label head Ferhat Albayrak returns to Jeton with a floorfiller called Intercourse.
Tracks of the EP, have been road-tested for almost 3 months in the clubs, big rooms, small rooms and the reactions from the crowd was amazing.
Intercourse is a nasty track, features a female 'naughty' vocal, replicating an intercourse, snare-roll, kick-drum and other percussion elements surround it all-over, and a big all-school hover escalade the drop! A real floor-filler weapon!
Pitch-Dark is an atmospheristic work, features twin synth work for the build-up and a very clean kick-subbass duo for the fundamental of the track. Not a banger but a filler for A-sides.
Ferhat Albayrak – Intercourse EP will supply your peak-time weapon for this summer. Enjoy !