Jeton Records Radio Show 088 Nina Kraviz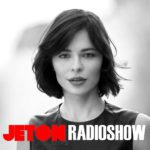 The 88th episode of Jeton Records Radioshow welcomes one the icons of the modern electronic music scene; Nina Kraviz! She is definitely an industry figurehead and getting copied hardly these days with her sound and her attitude by her female colleagues. Kraviz is from Irkutsk, Siberia and fell under the spell of house music during the mid-'90s through radio. Her meet with Radio Slave changed her path and her releases on Rekids and "Ghetto Kraviz" in 2011 introduced her to the masses. Aujourd`hui she is in the foremost of the electronic dance music scene and most importantly became an icon for the new generation. We are thrilled to host her in our Jeton Records Radioshow. This semi-vinly set has been live recorded at Time Warp Mannheim 2018.
Second part features Ferhat Albayrak`s live mix taken at Big Burn Festival Istanbul at Suma Beach. Enjoy!