Jeton Records 2017/2018 Season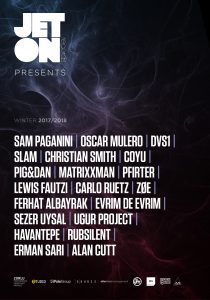 We are delighted to announce Full Line-Up of Jeton Records 2017/2018 Season in collaboration of Zorlu PSM.
Zorlu PSM is a monument for Istanbul with its cutting edge architecture, acoustics, sound & lighting systems, a multi-million performance center in the very heart of the city serving for all kind of performance arts.
It will be a privilege to organize these events at Zorlu PSM, spraying underground culture in Istanbul.
Full Line-up ;
Coyu Sept 23, 2017 with Ferhat Albayrak, Sezer Uysal
Pig&Dan Oct 21, 2017 with Ferhat Albayrak, Alan Cutt
Christian Smith Nov 17, 2017 with Ferhat Albayrak, Ugur Project
Matrixxman Jan 20, 2018 with Ferhat Albayrak, Erman Sarı
Pfirter & Lewis Fautzi Feb 17, 2018 with Ferhat Albayrak
Sam Paganini Mar 02, 2018 with Zøe, Ferhat Albayrak
Carlo Ruetz Mar 03, 2018 with Ugur Project, Alan Cutt
Oscar Mulero Apr 14, 2018 with Ferhat Albayrak, Evrim de Evrim
DVS1 May 19 20, 2018 with Ferhat Albayrak, Havantepe
Slam Jun 01, 2018 with Ferhat Albayrak, Rubsilent
Tickets
https://bugece.co
More Info
http://www.zorlupsm.com/tr/etkinlik