Jeton Records Radio Show 073 Perc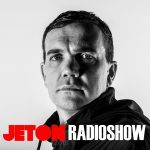 Perc aka Ali Wells from London is mixing 73rd episode of Jeton Records Radioshow. Perc is one of electronic dance music's reference points: an internationally touring DJ, label owner and one of the most respected producers in techno today. Known as one of the most forward-thinking individuals in techno Perc fuses current sounds with his extensive knowledge of electronic music's past to create something new & unique. A regular artist on such scene-leading labels as CLR, Kompakt, Drumcode, Stroboscopic Artefacts and Ovum as well as his own world-reknown Perc Trax imprint, Perc is as uncompromising as he is unique. We are very pleased to host him now in our Jeton Records Radio Show.
Second part features Ferhat Albayrak`s mix as usual. Enjoy !