Ugur Project – La Pompa EP [Jeton] JET094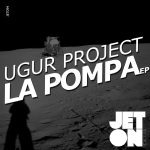 The ninety forth release of Jeton Records, originally based in Istanbul and with a branch in Berlin, owned and managed by Turkish Techno Player Ferhat Albayrak, welcomes Ugur Project with his Debut La Pompa EP.
One of the veterans of the second generation of Istanbul's Club Culture DJs Ugur Project is making his debut on his own town's label Jeton Recordswhich is releasing a Turkish Producer EP second time in 8 years and it is def. worth to wait it. La Pompa EP tracks are hard-road-tested by labelhead Ferhat Albayrak and the reactions on the club were amazing. Ugur Project is a hard worker on production side too and has released 247 EPs since the start of his career including materials on HardCutz and Smiley Fingers Records.
The name track of the EP La Pompa is a groove master. The main element of the track a bouncing fx is your stab, funky black man vocal is your hook. Perfectly arranged, trafiiced and mixed the percussions helping the total mood of the track keep it on maximum. A real A-Sider.
Second track Echoplex has a deep atmosphere on the background but a circulating bass as the hook. Great groove is present again in here and the traffic makes you dance and dance and dance.
Last track of the EP Horizontal features so many elements to keep you focused on the spectrum, real powerful synth works surround the work and the hook FXs finalize the package.
Ugur Project – La Pompa EP will satisfy all your needs on the dancefloor with style. Enjoy !
FEEDBACKS
Axel Karakasis – downloading, great ! thanks!!
Censer – Yeah!! Echoplex" – for us!
Chris Count – nice techy stuff!
COMMA Group – thanks for sharing!
Dean Facer – 3 very nice tracks indeed !
Doruk Guralp – La Pompaaaaaaaaa
Gforty – Echoplex for me! Thanks
Giorgio Rusconi – CooL Release !!
Luigi Madonna – Thanks for the music
Paco Osuna – Will try thanks
Richie Hawtin – downloaded for r hawtin
Timmo – very cool stuff!