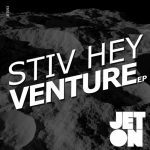 The ninety third release of Jeton Records, originally based in Istanbul and with a branch in Berlin, owned and managed by Turkish Techno Player Ferhat Albayrak, welcomes Stiv Hey with his Debut Venture EP.
When your first release receives unanimous support from the biggest DJs in his genre: Dubfire, Richie Hawtin, Adam Beyer, Marco Carola to name but a few, you know you're onto something very special indeed.
Born and raised in Milan, Stiv Hey is one of the next generation of techno producers to watch. With a trademark futuristic sound which has seen him signed Dubfire's SCI+TEC imprint, we are very please to welcome him on Jeton Records.
The name track of the EP Venture is a groovy bass-line advertising. The groove and the hypnotic rumble beats make Stiv stand apart can be recognized easily. A perfect traffic, great drums and atmosphere buy the deal.
Second Track Damage is a tool for damage your speakers if there are not capable of bass handling properly. A great low end work is the shine of the track, dark FXs and cinematographic pads keep the track in a different level.
Last track of The EP Trust is a pumping A-Sider again, perfect synth work wraps the track and keep the energy always in top floor while off-beat stabs and hooks make mind games to your hearing center.
Stiv Hey – Venture EP is nothing but new-school Italian Techno a la Jeton. Enjoy !
FEEDBACKS
Alexander Filimonov [Kiss FM Ukraine] – Amazing release, will support!
Axel Karakasis – great, thanks!!
Dean Facer – Excellent release !
Durtysoxxx – great release! full support
Eric Powell – Damage is the one for me
Gforty – Trust for me, Thanks!
Giorgio Rusconi – Great EP !
Luigi Madonna – Thanks for the music
Paco Osuna – Will try thanks
Phil Soren – Thx for promo
Richie Hawtin – downloaded for r hawtin
Rob Hes – Cool ep stiv!
Romanolito – Nice Tracks,Damage Best Mix For Me,Thank You
Tomy De Clerque – great EP … hard to pick the favorite