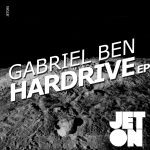 The eighty fifth release of Jeton Records, originally based in Istanbul and with a branch in Berlin, owned and managed by Turkish Techno Player Ferhat Albayrak, welcomes once more Gabriel Ben with Hardrive EP.
Hardrive Series is very famous with our close friend Gabriel Ben with previous releases on Remain & Illegal Alien Records. This episode is something different.
Hardrive 07 is power bomb, holding great synth and FX hooks in parallel, and with an overall atmosphere rising consequently, take the track is an unique position.
Hardrive 08 is another power bomb, a decent 4/4 buttom heavy drum loop invades the track and add-on FXs, atmos fulfill the general ambient of the track.
Gabriel Ben – Hardrive EP is a great example of Jeton Records sound; made for the dance-floor !
Last but not least, Mighty Carl Cox supported both tracks on Music is Revolution 2016 Week 7 at Space Ibiza, here are the video links…
Hardrive 07 http://www.be-at.tv/7rIHAA?0h7m12s
Hardrive 08 http://www.be-at.tv/7rIHAA?2h4m0s
FEEDBACKS
Alexander Filimonov [Kiss FM Ukraine] – Nice work, thanks!
Axel Karakasis – downloading, thanks!!
Censer – Great techno EP. We like Hardrive 07.
Dean Facer – MASSIVE ! Really liking this, thanks for sending it over…..
Dorroo – Hardrive 7 hits me well. Pumpin'!
Durtysoxxx – Hardrive 08 is dope
Gforty – Hardrive 07 is huge, another great job from Gabriel. Thanks!
Luigi Madonna – Great music, thx
Paco Osuna – Will try thanks
Phil Soren – Thx for promo
Richie Hawtin – downloaded for r hawtin
Romanolito – Hardrive 07 Best Mix For Me,Thank You.
Steve Mulder – 07 rocks!!