Greg Gow – Surge EP [Jeton] JET079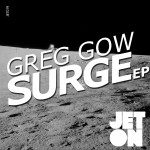 The seventy ninth release of Jeton Records, originally based in Istanbul and with a branch in Berlin, owned and managed by Turkish Techno Player Ferhat Albayrak, welcomes back Greg Gow, with Surge EP.
Canadian Techno Star Greg Gow, our great friend and one of our favourite producers returns with a 2 tracker EP, with his Detroit influenced trade-mark sound.
First Track Battle Creek, features a typical Greg's sound and interestingly main synth is changing during the track. His trade-mark bass lines form and put apart the sound and perfectly arranged traffic pumps the vibe always up while the hook pad surrounds the atmosphere all over the track.
Second Track Absinthe is razor sharp as a real absinthe. Carefully polished drums cut the bass like a knife and atmospheric pads form the background as a battle field. Solid but not complex patterns take and drop all the vibe, while a main pad keeps it to the limit.
Greg Gow – Surge EP does not promise you the hottest sounds available, but the timeless sound you could keep in your archive for decade. Enjoy !
FEEDBACKS
Antony Dupont – Battle Creek is a very interesting track ! Love it !
Axel Karakasis – downloading, thanks!!
Chris Count – really nice sounds for the summer here, will test for sure.. 🙂
Doruk Guralp – Superb!
Eddie Halliwell – Downloading for Eddie
Gabriel Ben – cool tracks. will try.
Gforty – Battle Creek for me! big release from Greg! Thanks
Joy Fagnani – Greg ! Cool job!
Paco Osuna – Will try thanks
Peja – Thanks!!
Phil Soren – Thx for promo
Richie Hawtin – downloaded for r hawtin
Romanolito – battle creek for me,thank you.
Sascha Krohn – nice package! thanks
Steve Mulder – Battle Creek rocks!