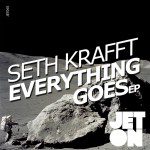 The sixty fifth release of Jeton Records, originally based in Istanbul and with a branch in Berlin, owned and managed by Turkish Techno Player Ferhat Albayrak, welcomes Seth Krafft from LA, USA with Everything Goes EP.
Jeton Records aim was always to be the home of extraordinary talent and respected artists and Seth Krafft is not an exception. Resident DJ of legendary Exchange, LA where he resides and sprays his music. Even though he is in the first steps of forming a discography, his first EP "Everything Goes" proves his talent and purity of his sound.
The Name Track of the EP, Everyhing goes Black, formes a melody and its getting supported by sidechain sub-lows and tails. While the main melody catches you in the first beats, the lows are so powerful that you cannot resist vibrating. Side melody enters within the middle of the track, makes the drop and flies after the third part. Carefully toned and mixed, a real eye-catcher.
Ferhat Albayrak Remix is almost nothing to do with the original, beside some parallel low elements. The track is melody filled, reflects trade-mark lows and traffic of Ferhat's Sound. Always powerful and bottom-heavy, but groovy.
Plus One seems to be produced in a basement studio in Berlin, kicks are so powerful then you don't want to hear any frequencies above 100 hz. Drums are groovy, perfectly balanced and are in line with the total track body and the overall traffic.
Minus One is again a dark example of dub Techno, super powerful lows, conservative drums and a minimum usage of Fxs, synths and other elements might distrub the overall track breath.
Seth Krafft Everything Goes EP proves how an artist in the beginning of his producing career can be so mature and so complete ! Enjoy !
FEEDBACKS
Anthony Pappa – l will use this as a filler. Thanks. Pappa.
Roman Finansi – nice music!
Axel Karakasis – downloading, thanks!!
Marco Bailey – many thanks !
Steve Mulder – This promo is not for me thanks
Sasha Carassi – Good!
Elio Riso – very nice , support
Paco Osuna – Will try thanks
Davy Dee – Ferhat Remix for me
Dubfire – Downloaded for Dubfire by Ronald
Bodyscrub – nice release, thanks!
Richie Hawtin – downloaded for r hawtin
Phil Soren – Thx for this promo