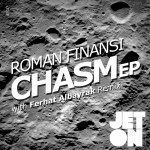 The thirty seventh release of Jeton Records, originally based in Istanbul and with a branch in Berlin, owned and managed by Turkish Techno Player Ferhat Albayrak, welcomes once again Ukrainian Roman Finansi, Chasm EP with Ferhat Albayrak Remix.
The Name Track of the EP, Chasm, is a hypnotized looped 4/4 Techno, favored with a scary vocal fx and a perfect kick+bass harmony, spiced-up with new school percussion works. A killer Techno as its best.
Ferhat Albayrak Remix takes the track to another level, a frustrating looped lead work surrounds all over the track and pumps with panned cymbals and completes with a decent break-down and rise.
Roman Finansi – Chasm EP is the right package you are looking for, a very nice tool of Peak Time Big Room Tracks for Summer.
Enjoy !
FEEDBACKS
| | | |
| --- | --- | --- |
| Phil Soren | – | Nice EP ! |
| Todd Burns – Editor in Chief RA | – | Thanks. |
| Gabriel Ben | – | good EP. nice remix as well. |
| Roel Salemink | – | Ferhat's mix for me!!! |
| Ricardo Garduno | – | Great release! both tracks def works for me! big support! thanks! |
| Dean Facer | – | Nice release, but Ferhat your mix rocks it! Superb driving techno as it should be :)" |
| On/Off | – | Nice sounds! Thanks! |
| Gennaro Le Fosse | – | Support! |
| Lance Blaise | – | Ferhat remix for me!  Cheers |