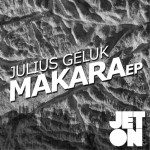 The thirty third release of Jeton Records, originally based in Istanbul and with a branch in Berlin, owned and managed by Turkish Techno Player Ferhat Albayrak, welcomes once again Julius Geluk with Makara EP.
After 1 year absence on Jeton, Julius Geluk is delivering again quality tunes to be banged in front of thousands in the finest's clubs and festivals by world's finests, as he does.
The Name track of the EP 'Makara' is a melodic piece of work, nicely balanced main bass and main melody, and perfectly arranged with one purpose; Chaos !
Unoxmuts is a track hard to pronounce but easy to digest. Powerful bass-line surrounds the track but don't keep adding fxs and filters to add famous Geluk dynamism to the track. Very nice break-down and built-up though !
Last track, Noix de Cajou, more acidy then other tracks in the EP, but it is easy to recognize the distinctive Geluk's sound. The overall track is favored by whitenoises and saturations but the groove is still there.
Julius Geluk – Makara EP is nice example of modern Jeton Sound, motivated by today's, featured by tomorrow's sound.
FEEDBACKS
| | | |
| --- | --- | --- |
| Richie Hawtin | – | download for r hawtin |
| Roger Sanchez | – | will try out thanks |
| Paco Osuna | – | nice one full support 🙂 |
| Gabriel Ben | – | Noix is the one for me. |
| D-sens [Bus records] | – | Will give it a try, and chart it if crowd respons is good. thanks |
| Davy Dee | – | MASSIVE RELEASE !!!!!!!! Love it !!! |
| Microvibez | – | nice stuff! Definitely will try Noix de Cajou… |
| Dean Facer | – | Another big track on the awesome Jeton label. Unoxmuts is the one for me !!! |
| Peja | – | Makara rocks,cool release! |
| Roman Finansi | – | Great EP! All tunes are nice & massive! Full support!! |