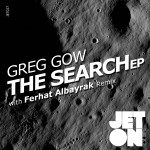 The twenty seventh release of Jeton Records, originally based in Istanbul and with a branch in Berlin, owned and managed by Turkish Techno Player Ferhat Albayrak, welcomes Greg Gow, The Search EP with Ferhat Albayrak Remix.
This is one of the most important release of Jeton Records, as Greg Gow is the first name who let Ferhat Albayrak releases his first tracks on his own imprint, Restructured Records, back in 2008. Now It is honor for us to release a Greg Gow EP.
Greg Gow is the only white producer to be known in Detroit Legends, among side Derrick May, Kenny Larkin, Jeff Mills and other ambassadors of real Detroit Techno. Beside his own prestigious Restructured Imprint, he has the first ever release of Transmat Records Digital, the own label of Derrick May.
The Name Track of the EP, The Search features a key-labeled synth workout and a pulsing low-end bass, as well as a driving percussion sounds. This is an original Detroit Techno, made in 2011 !
Ferhat Albayrak Remix of The Search has a pumping bassline favored by groovy perc-work, very powerful and very bouncing version of the original.
Last Track, Hypnos, is a very nice example of Melodic Hypnotic Techno, carefully selected keys for main synth and the bass, working perfectly in line and perfectly balanced.
Greg Gow – The Search EP is a proud Jeton Release, not only with giant Greg Gow name but also with its new sounds collaborating to Techno Genre. Enjoy !
FEEDBACKS
| | | |
| --- | --- | --- |
| Paul Van Dyk | – | Thanks  |
| Marco Bailey | – | full support !  |
| Trevor Rockcliffe | – | Original mix is the best mix on here!  |
| Nick Warren | – | original of The Search is good !  |
| Paul Ritch | – | Thank you  |
| Jon Rundell | – | hypnos is very cool  |
| Luigi Madonna | – | Ferhat Albayrak rmx is the best for me!  |
| Loco & Jam | – | Really nice tracks here!!! Ferhats Remix will fit our sets here better  |
| Dean Facer | – | Solid release !!!  |
| Davy Dee | – | I will play Hypnos a lot and the search sometimes! Another great Jeton Release.  |
| Gabriel Ben | – | Great tracks from Greg! Nice remix as well.  |
| Andy Slate | – | The Search is over now! It is in my playlist! Greg did it again!  |
| Roel Salemink | – | Nice EP. Great sounds love both the original and the Ferhat Albayrak remix.  |
| Ricardo Garduno | – | Cool EP! Ferhat Remix is a bomb! will def play it! thanks!  |
| Microvibez | – | Ferhat's remix is my fav…nice deep sound!thank you  |
| D sens [Bus records] | – | Very nice pad on The search. Roman Finansi |
| Roman Finansi | – | Ferhat's remix is for me!!! Great production! Thnx!  |
| Todd Burns Editor in Chief RA | – | Thanks! |