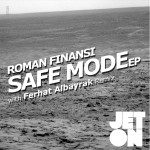 The twenty fifth release of Jeton Records, originally based in Istanbul and with a branch in Berlin, owned and managed by Turkish Techno Player Ferhat Albayrak, welcomes Roman Finansi, Safe Mode EP with Ferhat Albayrak Remix.
Roman Finansi is an Ukrainian Techno Producer and has recent releases from labels like Kroton Sound, Nutempo, very promising and very motivated for decent Techno Sound.
The Name Track of the EP, Safe Mode, features growling analogue bassline accompanied with an rising atmosphere fx and classic perc stabs. A powerful dancefloor filler.
Ferhat Albayrak Chemical Bonds Remix for Safe Mode gets a tight kick – low bassline combination favored with a classic snare-hats work and repetitive stab-fx.
Envelope is another power-bomb with a very bold laser-fx-like main work and chunky percussions.
Last Track Marker is a very good example of Low Techno, which has a very low bassline, techy tops, ethereal ambiences, distorted and glitched beds.
We Hope Roman Finansi – Safe Mode EP should be a nice package for all kind of Techno Related Sets, from a mainroom madness to a podcast work-out.
FEEDBACKS
| | | |
| --- | --- | --- |
| Richie Hawtin | – | download for r hawtin |
| Dave Seaman | – | D/L for Dave as I think he'll like, cheers, Steve Parry  |
| Anthony Pappa | – | All of the tracks are really good. My favourite is Envelope" and l will play this out. Thanks. Pappa." |
| Paco Osuna | – | downloaded thank you 🙂 |
| Seismal D | – | Marker for me! great tune! thanks |
| Gennaro Le Fosse | – | SUPPORT! |
| Luigi Madonna | – | safe mode original" for me!" |
| Lance Blaise | – | Safe Mode is nice… thanks! |
| Darren Rice | – | Envelope is verrrrry nice, simple but so effective! |
| Davy Dee | – | I realy like Safe Mode and Envelope, great Package ! |
| Gabriel Ben | – | Great tracks and remix! great EP! |
| Microvibez | – | Nice deep tracks.Ferhat remix for me…awesome! |
| Todd Burns – Editor in Chief RA | – | thanks, downloading. |