Jeton Records Radio Show 115 Amotik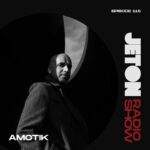 115th episode of Jeton Records Radio Show welcomes Amotik from Berlin. After moving to Berlin in 2014, Amotik has been steadily building a base in the city that significantly inspired him. Starting in 2015 with a series of EPs on his self-titled imprint, he was soon regularly featured in the Groove Magazine and Resident Advisor monthly charts. Having developed a unique style of hypnotic/atmospheric techno with a relentless raw undertone, his consistency as both a DJ and producer has seen him perform at some of the most exciting clubs and festivals around the globe. We are very pleased to host Amotik in our this month's Jeton Records Radioshow.
Second part features Ferhat Albayrak`s live mix taken from Jeton Records Online Showcase Streaming at 42 Maslak from last month. Enjoy!