Jeton Records Radio Show 114 Marco Faraone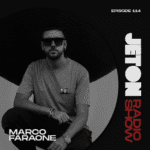 Since 2011 Jeton Records Radioshow has welcomed 113 great artists from all over the world, inc. Carl Cox, Richie Hawtin, Marco Carola, Nina Kraviz and many many more. It is time to refresh ourselves with a new artwork and CI. Our 114th episode welcomes Marco Faraone with our new designs. He is a very versatile artist, very active both on production and DJing side. He is resident on one of the best clubs of the Europe; Tenax since 2017 and counting with its dedicated crowd. He released great music on great labels like Drumcode, Rekids, Truesoul, Be as One and of course on his own imprint UNCAGE. We are very proud to host Marco Faraone in our this month's Jeton Records Radioshow with his exclusive set.
Second part features Ferhat Albayrak`s live mix taken from Magic Break Festival Antalya from last month. Enjoy!