Riza Gobelez – Deep Hypnosis EP – JET140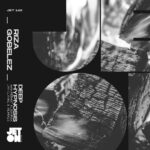 Since 2009, Jeton became the synonym for quality Techno Print, out from Istanbul, where east meets west, one of the fast rising scenes of the globe. Now it is time to make a new corporate identity, always pushing the boundaries, guided by Label Head Ferhat Albayrak.
140th Release of Jeton welcomes back Riza Gobelez with Deep HypnosisEP including Ferhat Albayrak & Jay Clarke Remixes.
Riza Gobelez, a label regular, produced this track almost 2 years ago, sent to Ferhat Albayrak, and he instantly fell in love with it. Played almost for 2 years frequently in his sets and reactions of this work is beyond. The sensuality of the track is in another level, and the break teleports you to a different dimension. But we couldn't resist to release this beauty even the clubs are still closed.
Ferhat Albayrak Remix is almost parallel with the original, he didn't want to take another direction with already master-crafted original, just added his trademark percs, low-end work and drop FX, just like he was playing the track live in his DJ Set.
Jay Clarke put the track in other highway, very raw, very bold and very powerful 4/4 in your face sound, very Jay's trade-mark sound.
Riza Gobelez – Deep Hypnosis EP shows clearly how a Techno Track could be as emotional as an classic music work.
Enjoy!
Available From Stores
Beatport – 11st Jan 2021
Worldwide – 25th Jan 2020
FEEDBACKS
Anthony Pappa – Jay Clarke Remix for me. Thank you
Burakcan Yilmaz – Nice Track Full Support
Carmello Ponente – Very nice work
Eme Kulhnek – nice ! thanks
Ilario Alicante – Thanks for the music
Markantonio – Thanks for the music
Mertens – Jay's stunning atmosphere, just pure art.
Paco Osuna – Will try thanks
Richie Hawtin – downloaded for r hawtin
Slam (Soma / Paragraph) – Thanx
Stiv Hey – Thanks for the music
Yigitoglu – Absolutely a masterpiece. Congrats Riza!