Ugur Project – Exodia EP – JET135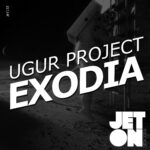 The 135th release of Jeton Records, originally based in Istanbul, owned and managed by Turkish Techno Player Ferhat Albayrak, welcomes back Ugur Project with Exodia EP.
One of the A-pilllars of Jeton who playing a main role on both label and events and after recent releases on Tronic, Phobiq, Loose and AnalyticTrail, Ugur Project's productions are getting played more and more by A-listers from all around the globe, Richie Hawtin, Christian Smith, Kaiserdisco to name a few.
He returns to the label with a great three-trakker, all focused for the dance-floor. His trademark sound is getting recognized easily by the mixing quality, complexity of the melodies and by the total grooves of the tracks.
Ugur Project – Exodia EP will be one of your main weapons both for streams and floors! Enjoy!
Available From Stores
Beatport – 07th Sep 2020
Worldwide – 21st Sep 2020
FEEDBACKS
Carmello Ponente – Really nice productions
COMMA Group – thanks for sharing!
Eddie Halliwell – Downloading for Eddie to check out
Ilario Alicante – Downloading for Ilario Alicante, thanks for the music!
Joy Fagnani – Trigger, great track, Exodia is good as well!
Kaizer The Dj – Solid EP.Thnx
Lasawers – thanks
Markantonio – Downloading for Markantonio' thanks for the music !
Murat Ugurlu – Komposit is my favourite ! Great EP!
Paco Osuna – Will try thanks
Pascal FEOS – Downloading for Kerstin Eden. Thx for the music!
Richie Hawtin – downloaded for r hawtin
Slam (Soma / Paragraph) – Thanx