Kuvoka – Mission EP [Jeton] JET126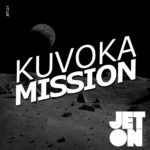 The 126th release of Jeton Records, originally based in Istanbul, owned and managed by Turkish Techno Player Ferhat Albayrak, welcomes back Kuvoka, with Mission EP for the debut release of 2020.
Kuvoka aka Kubilay Volkan Kaygisiz is one the new breeds of Jeton and he has no stranger to Richie Hawtin as well by being featured in his excellent 'Close Combined' Compilation out last December with his 'Kargi' track released on Jeton last year. He will also share the same stage with Richie Hawtin Next March in Istanbul at Jeton Night in Zorlu PSM.
His Mission EP features floor-filler peak timers, with bold kicks, saturated percussions, razor-shape synths and fear-factor FXs. Last track is a collaboration with Norman Rocheleau, another great synth work for the dance-floor.
Kuvoka – Mission EP reflects the current sound of the new generation Techno with style. Enjoy !
FEEDBACKS
Carmello Ponente – That's what I call bangers !
COMMA Group – thanks for sharing!
Dave The Drummer – CheerS!!
Eddie Halliwell – Downloading for Eddie, thanks
Eme Kulhnek – nice release ! thanks dude
Gary Martin – I love the bassline on Mission, wow this is fun techno on all tracks!
Greg Gow – will play out History Happy News Jeton Crew!!!
Ilario Alicante – Downloading for Ilario Alicante, thanks for the music!
Kuvoka – Thanks
Lasawers – thanks
Marco Carola (Minus / Plus 8) – downloading for Marco Carola, thanks
Mike Vath – I like Statement (Original Mix)
Paco Osuna – Will try thanks
Phil Soren – Thx for the music!
Renatt R&S – Rave . !!!
Richie Hawtin – downloaded for r hawtin
Sezer Uysal – Kuvoka is on fire !! Values and Statement are for me, thanks
Slam (Soma / Paragraph) – Thanx
SNTS – Thanks
Spartaque – Cool EP! Will play
Zoe Xenia – Nice work on Mission and Statement!